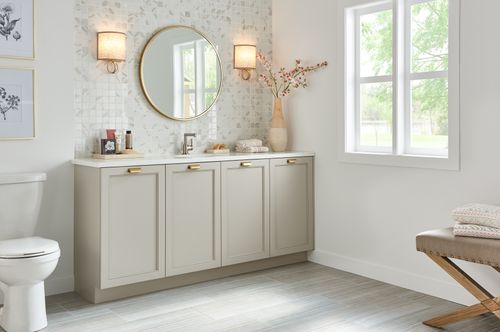 Bathroom Cabinets Brunswick |
Bathroom Cabinets Brunswick | Custom Bathroom Cabinets Brunswick
Kiba Studios is widely acknowledged as the leading provider of elegantly crafted bathroom cabinets for Brunswick residents and homeowners throughout the greater Cleveland area. Our luxurious bathroom cabinets deliver the durable and versatile cabinetry active families need. Kiba Studios gives Brunswick customers two unique ways to get the custom bathroom they desire.
Our clients can either create their very own custom bathroom cabinets that replicate their personal style and taste, or they can select from a collection of designer-inspired products for a faster and easier remodel. Regardless of the choice customers make, they will receive the best the industry has to offer in both convenience and sustainability.
Kiba Studios meets the needs of our Brunswick customers consistently and effortlessly, whether they are looking for contemporary styling, European-inspired bathroom cabinets, or a simpler vintage custom bathroom. We endeavor to achieve 100% customer satisfaction in every custom bathroom remodel we perform. It is no wonder that our Brunswick neighbors persist in selecting Kiba Studios for all their bathroom cabinets and custom bathroom needs.
Custom Bathroom Cabinets Brunswick
Brunswick is in Medina County, Ohio with approximately 35,000 residents. Kiba Studios is located in Medina at: 3812 Pearl Road, Suite C, about five miles south of Brunswick inside the location of MDG Flooring America. We are distinguished for our exceptional designer-inspired and custom bathroom cabinets.
Our luxurious bathrooms are both fancy and functional, and Brunswick customers particularly like that a Kiba Studios bathroom can offer the same vibes as a European spa. Brunswick clients appreciate that after a hard day at work, they can come home and relax in the comfort of their tub in their new custom bathroom. Our calming and stylish custom bathroom cabinets are also practical.
Kiba Studios enjoys creating a place for our Brunswick customers to unwind and relax. We also can help our Brunswick neighbors address how best to remodel a guest bathroom or a powder room, and we carry a broad selection of custom bathroom cabinets to suit every situation and lifestyle.
Custom Bathroom Brunswick
Isn't it time to let Kiba Studios inspire your new Brunswick custom bathroom design? If you've been meaning to do something about that outdated, drab-looking bathroom, we can help. You are just one phone call away from letting our team of professionals take charge of providing you with the custom bathroom cabinets your Brunswick bathroom deserves. Call Kiba Studios, today, at: (833) 391-8704, or stop on into our showroom. We are open: Monday – Thursday, 10 AM-6 PM; Friday, 10 AM-5 PM; Saturday, 9 AM-4 PM; and closed on Sunday. We're looking forward to working with you!
Bathroom Cabinets Brunswick | Custom Bathroom Cabinets Brunswick | Custom Bathroom Brunswick