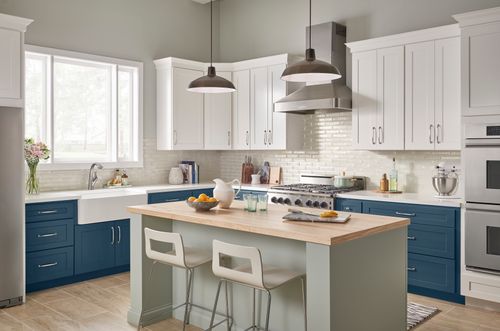 Kitchen Cabinets Medina |
Kitchen Cabinets Medina
Have you been contemplating getting a custom kitchen for your Medina home? If so, Kiba Studios of Medina is widely acknowledged as the place to go for the best custom kitchen cabinets in the Medina and greater Cleveland area. We have the skills and knowledge to make that custom kitchen you've always dreamed of having a reality! We have a tried-and-true method of turning a custom kitchen remodel into a positive and constructive project. First, we invite you to work virtually with one of our experienced designers from the comfort of your own home.
Or you can launch Kiba Studios 3D Kitchen Design tool,and begin drafting the look you like for your custom kitchen cabinets and appliances. When you are ready to place your order, one of our designers will meet with you in person in the showroom. When we meet, we will finalize your product selections and design together, to ensure the plans outline your dream kitchen. It is no wonder that so many homeowners from Medina choose Kiba Studios for their custom kitchen cabinets.
Custom Kitchen Cabinets Medina
Medina is a city in Ohio that has close to 26,000 residents, and is the county seat of Medina County.
Kiba Studios is located in Medina at: 3812 Pearl Road, Suite C inside the MDG Flooring America. We provide the quality kitchen cabinets that have all the functions families need, plus we have custom kitchen cabinets that deliver utilitarian features that so many Medina families desire to make their lives easier, like:
Built-in Spice Racks
Pots and Pans Storage
Charging Stations
Rolling Trays
Glass Front Display Cabinets
Utensil Organizers
Lazy Susan Corner Cabinets
Wastebasket Pull-Outs
Medina customers can also get that kitchen island they have always wanted, as well as their choice of custom kitchen countertops and the option of crown molding for their custom kitchen cabinets.
Custom Kitchen Medina
With your kitchen design expert, your Medina remodeled custom kitchen will not only be fully functional, but it will also be the envy of all your guests. We ensure that your custom kitchen installation proceeds without a glitch, from start to finish. Kiba Studios also provides a custom kitchen estimate and can assist you in preparing a budget.
From the expert custom kitchen design to the final custom kitchen cabinets, Kiba Studios will be there throughout the entire project. To learn more about making a new custom kitchen a possibility for you and your family, call Kiba Studios, today, at: (833) 391-8704. Our business hours are: 10 AM-6 PM, Monday – Thursday; 10 AM-5 PM, Friday; 9 AM-4 PM, Saturday; closed Sunday.
Kitchen Cabinets Medina | Custom Kitchen Cabinets Medina | Custom Kitchen Medina