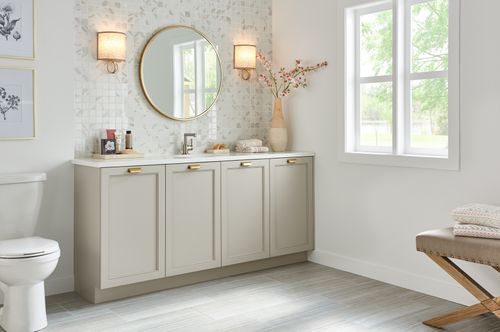 Bathroom Cabinets Medina |
Bathroom Cabinets Medina
Kiba Studios serves the needs of Medina homeowners and their families, as well as residents throughout the greater Cleveland area, with the most sophisticated and luxurious custom bathroom cabinets and bathroom designs. We offer Medina homeowners two choices to create the bathroom of their dreams.
We have a wide array of designer-inspired bathroom cabinets with vanities, sinks, countertops and coordinating floor and wall tile from the top designers. These designer-curated pieces can be used in a complete remodel, or to mix and match for an eclectic look of your very own. We also offer our Medina customers the opportunity to work directly with our Kiba Studios team to design their very own custom bathroom. Our custom bathroom cabinets always take center stage!
Regardless of the look our clients are trying to achieve, Kiba Studios has everything from simple, rustic farmhouse style bathroom cabinets to chic, Fifth Avenue elegance, or streamlined, futuristic custom bathroom cabinets. Regardless of our Medina neighbors' tastes, Kiba Studios always has precisely what they want.
Custom Bathroom Cabinets Medina
Medina is a city in, and the County Seat of, Medina County, Ohio with around 26,000 residents. Kiba Studios is located in Medina at: 3812 Pearl Road, Suite C inside MDG Flooring America. We are renowned for creating the beautiful custom bathroom cabinets our Medina customers desire. Having a fully functional bathroom is important but having a custom bathroom that serves as a refuge and place to relax and unwind at the end of a challenging day is quite another thing entirely.
That's what Kiba Studios does for our Medina clients. Every aspect of your custom bathroom from the custom bathroom cabinets, to the tile, flooring, sink and tub, combines to create a luxurious retreat from the rest of the world. We offer a broad selection of bathroom cabinets, countertops, sinks, toilets, and showers.
Custom Bathroom Medina
When Kiba Studios oversees the remodeling of your Medina bathroom, you can rest assured that no detail will be overlooked. Our team is composed of talented professionals, and you can be confident that they will deliver the custom bathroom you have always dreamed of having for a price you can afford.
To set up an appointment with a member of our team, call us at: (833) 391- 8704, or visit our showroom. We are open: Monday – Thursday, 10 AM-6 PM; Friday, 10 AM-5 PM; Saturday, 9 AM-4 PM; and closed on Sunday.
Bathroom Cabinets Medina | Custom Bathroom Cabinets Medina | Custom Bathroom Medina