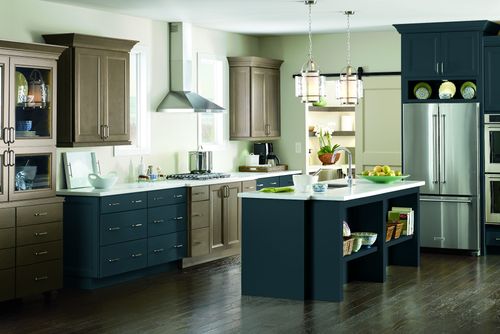 Kitchen Cabinets Brunswick |
Kitchen Cabinets Brunswick
Are the kitchen cabinets in your Brunswick area home starting to look like they're from another century? Perhaps it is time to reach out to the professionals at Kiba Studios in Medina. When it comes to kitchen cabinets, we are not only able to bring you up to the present, but we can take you into the future with our amazing custom kitchen cabinets.
We proudly serve Brunswick homeowners and residents throughout the greater Cleveland area. Our team has the talent and expertise to transform your kitchen into the one you have always dreamed of having, and wemake a custom kitchen remodel a positive and rewarding experience. Our process to get you started is both foolproof and amazing, including the following options:
Consult online (for FREE) with one of our designers from your home
Have one of our designers meet with you at your home, office or our showroom
It really is that easy, and this is just one of the countless reasons our Brunswick neighbors consistently choose Kiba Studios over the competition.
Custom Kitchen Cabinets Brunswick
Brunswick is in Medina County with about 35,000 residents. Kiba Studios located at: 3812 Pearl Road, Suite C in Medina, about five miles directly south of Brunswick inside MDG Flooring America. When Brunswick homeowners browse our website, they can readily see that we have a wide array of custom kitchen cabinets and every possible custom kitchen feature they could want. When they view our custom kitchen cabinets, they're going to wonder why they waited so long. Some of the highlights of our custom kitchen cabinets are:
Glass Front Display Cabinets
Lazy Susan Corner Cabinets
Along with those great and desirable features, we also can provide our Brunswick customers with a lovely custom kitchen island and a broad selection of durable and attractive countertops, backsplashes, crown molding, flooring, sinks, lighting, and pantries.
Custom Kitchen Brunswick
With our Kiba Studios custom kitchen experts guiding you throughout the process, you will soon have a kitchen in your Brunswick home that not only functions as it should but will be a place for your family to gather with pride. Your Brunswick kitchen won't just look updated and modern, but it will also be highly efficient.
Your new custom kitchen cabinets will maximize your space so that you can always find exactly what you need, when you need it! You can rely on our team to walk you through the process of developing a realistic budget for your new custom kitchen project. To schedule an appointment with a custom kitchen designer from Kiba Studios, call us at: (833) 391-8704, today. Our business hours are: 10 AM-6 PM, Monday – Thursday; 10 AM-5 PM, Friday; 9 AM-4 PM, Saturday; closed Sunday.
Kitchen Cabinets Brunswick | Custom Kitchen Cabinets Brunswick | Custom Kitchen Brunswick